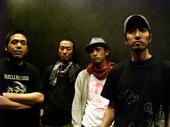 In 2002, activities started. Sound, noise, Association, sound, roaring sound, and data Directors. Static is created by the unique view of the world instrumentals all. Formed initially by voluntary planning and the Allies"OVUM"joint planning"amber dawn"(wristband only) are held in many responses. Also in 2007 we held planning"closer refill"新宿marz THE MOTION, 2 venue traffic, and freedom system a total of 11 bands and performers, and over 300 staff. (FREE CD3000 sheet distribution) The 2nd edition of the same year, 11 May in Tokyo, Nagoya and Osaka held on. (FREE CD5000 sheet distribution) In 2008 was held the 3rd edition of the hosei University events. (FREE CD10000 sheets distributed), and actively do. Live has a reputation for"KINSKI"and"BELLINI"and"SHIPPING NEWS,"as the overseas artists on tour in Japan to support the work, joint performance artists and more. This year 7 month"Adebisi Shank", The"Saxon Shore,"refrain. In addition, overseas activities actively and continue to be MONO and the encounter from their label, human highway records, for the first time in domestic by artists in Paris,"THE MIXING OF LANDSCAPE"to participate in 2005. This is our base EP2 works and two bus boards 2 works.
Deep, andEven without the distant, distant to the world created. Impulse and emotional violence, silence and logic in the view of the beautiful landscape. This chest high tone CD stops, if you stop.
Rin as shigure Pierre Nakano
Nine storiesOne of the major epic poem. False image of the scene to change the song without it. No, the first but not. This is grotesque, and the beautiful powerful sound of the masses.
Nakajima -, Sumitomo-Pacific killie
Music coverThey gathered and formed oaqk in! At the root of the metal elements of the shaft, 90 years to the early sound as a Steel hammer would swing down roaring sound, the modern sound to Germany, etc., the explosion sound, all the kick from the wrap and conflicting representation of a mixture. Their ideals and ideas of activities to practice are few. This is fun.
WHAT EVER FILM Kadowaki, Makoto
DanceThe roaring sound and Silence. This album and from that time, the mobile phone power OFF recommend.
IDE, Ryuji rega G.
oaqkAll spirits of the production drop was delivered. Many languages allow the overwhelming view of the world. Steel wedge hammered into a building, time to snuggle, time to plague the thrust release scenery. This work will unleash some of the metaphors, we heard that ties together all of us can come to? oaqk, their music reaches all people receive.
ha-gakure yas/mc
This albumWhile listening to one NAP was the Darth Vader movies, text and use the text aunt and I lightsaber can move the struggle to the death over that magnificent dream. Kiss aunt, the movement of the key, amazing.
akutagawa Sato, Hideki
Doom. Please listen, and despair from the future, depressing song.... Also metal discussions about the bloom flowers. Stay evil! Stay heavy! Stay doom!
King Goblin, AKBK a La King
On theIn the evening, a gray sky for a background, rebar plants from one muscle to the smoke rise. Wall-to-wall asphalt, road, rush properties concerned expressions of the people. oaqk music from, desperate monochrome world. It is a despair to draw this hope is strongly positive, they are not the message. Then, in this world hope and wish for music need to do that for me.
One hundred views of wood and thicket natsuko
DarknessIf you think it is a white scene. As black, I saw a white light cleansing. Nursing by thoughtfulness and youth, such innocent The of two-sided with their personality and modernity.
oak Miura, Yuri code
Questioning the meaningThis is meaningless! These would be walk in the tracks of heavy, fragile, you, Single-mindedly, with curiosity, and rather lonely walk to the chest of sound that sound is, however, one of them only.
Brigade mohri, former Woo
Translated by Yandex.Translate and Global Translator